The TRICKSTER'S GAME Trilogy
2010 Finalist
Mythopoeic Fantasy Award for Adult Literature
Read the interview on New Myths.


Heartwood
Book One of Trickster's Game


Now available from DAW Books



For generations, the tribe has gathered at Midwinter to observe the sacred battle between the Oak and the Holly and to pray for the world's renewal. This year, Darak witnesses strange portents in the night sky that bode ill for the tribe and for his brother.
His worst fears are realized when Chaos intrudes on the grove of the First Forest, casting Tinnean's spirit adrift along with the Tree-Lords. His world locked in winter, Darak must fulfill his role as the tribe's hunter and seek out and restore the lost spirits, even if the journey takes him into the heart of Chaos.

"Think Jean Auel and Judith Tarr and readers will have some idea what HEARTWOOD is all about. The setting feels prehistoric with magic an everyday occurrence. Darak is a strong stubborn man who loves deeply; when his brother is in danger he is willing sacrifices himself to free his sibling from the enemy. Barbara Campbell creates characters readers will care about and produces a storyline that grabs reader interest." MIDWEST BOOK REVIEW
"Campbell seems to have considerable potential and her first effort is certain to raise some eyebrows." SCIENCE FICTION CHRONICLE
Excerpts from a bookstore manager's 1/09 LJ blog:
"I stayed up way past any logical hour last night to finish reading Heartwood by Barbara Campbell. And got up far too early this morning to start the sequel. The world build(ing) was so enthralling that not only am I interested to see what all is going to happen, I am utterly fascinated with the different people Campbell has filled her world with.

Heartwood was honestly the best book I have never heard of. Often beautiful, occasionally brutal, Heartwood was a unique fantasy. It's a primitive, tribal setting, which had my attention within a handful of pages. The thing that needs saving is the very natural order of things, and damn, was it wonderfully well done.

So, seeing as I went through years in the book business never hearing about this treasure of a book, I wanted to take a few minutes to make sure (the) word goes out. They are hard to find in bookstores proper, as they are a few years old, but take the time to go online and get copies. You won't regret it."
Read the whole post on Live Journal.
Read part of the opening chapter: Heartwood Excerpt
Read about my experiences in writing Heartwood: My Odyssey
Buy from Amazon

Bloodstone
Book Two of Trickster's Game
Now available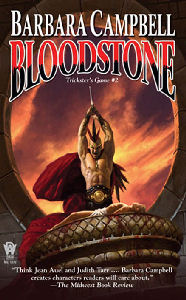 Fifteen years have passed since Darak's quest. His son is now apprenticed to the village's Tree-Father. Keirith unwittingly commits sacrilege by using his gift to commune with other creatures, the crime for which the evil shaman Morgath was destroyed.
But a more immediate danger threatens the people of the Oak and Holly: the burgeoning power of the ancient enemy who drove them from their ancestral lands. When Keirith is kidnapped, Darak sets off in pursuit. Their paths take them to the heart of a distant city where both father and son must confront their darkest fears in order to survive.

"Imagine The Crucible Trilogy by Sara Douglass crossed with the fantasy saga of Kate Elliott. Barbara Campbell proves she is no one shot wonder with the second Trickster's novel which is even better than Heartwood." MIDWEST BOOK REVIEW
Excerpt from 1/25/09 Book Review
(written by Joshua Palmatier and posted on LJ and Goodreads):
Read part of the opening chapter: Bloodstone Excerpt

Foxfire
Book Three of Trickster's Game
Now available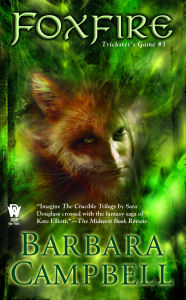 On the bleak northern moors, Darak and his family begin a new life, free from the prejudices of their tribe and the looming threat of the Zherosi. But their past continues to haunt them, and choices made years ago threaten their future as surely as the armies that raze their forests.
As rebellion spreads and the tribes fight for survival, a new force enters the game - Rigat, the youngest son of Darak and Griane. Gifted with magic far greater than Keirith's, Rigat is the only one who might be able to save his people. Aided by the Trickster, he embarks on a dangerous game of deception that will determine the future of the children of the Oak and Holly - and the fate of the gods they worship.
Read an excerpt: Foxfire Excerpt
Read the interview with John Joseph Adams on tor.com.
Buy from Amazon